What is Acupuncture?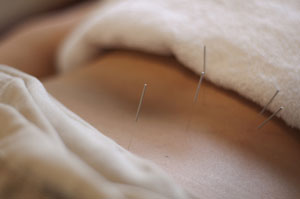 Acupuncture, simply stated, is a health science which is used to treat pain and dysfunction in the body
Acupuncture has its roots deeply planted in China. In fact, authorities agree that it is between 5,000 and 7,000 years old. Its use spread throughout ancient Egypt, the Middle East, the Roman Empire and later into Western Europe as merchants and missionaries to China told of the amazing discoveries the people of the Orient had developed. Acupuncture did not become known on a national level in the U.S. until 1971 when diplomatic relations between China and America were relaxed.
At first glimpse, Acupuncture appears strange; as its primary notoriety is the utilization of needles placed in the skin at various locations to relieve pain or affect a body part.
Early Chinese physicians discovered there is an energy network traversing just below the surface of the skin which communicates from the exterior to the internal organs and structures at over 1,000 "Acupoints" on the body. This energy works in harmony with the body's circulatory, nervous, muscular, digestive, genitourinary and all other systems of the body. When this vital energy becomes blocked or weakened, and effect in a body system or anatomic location becomes evident. Stimulation of one or a combination of key "Acupoints" on the body may restore harmony to the affected area.
Historians have stated, "More people have benefited from Acupuncture over the course of fifty centuries that the combined total of all healing science, both ancient and modern."
How Does It Work?
The human body's energy flow courses over twelve meridians or channels that are normally well balanced. If a disruption of energy flow exists, it can alter the entire system, producing pain or symptoms in the body.
This is Acupuncture's goal to restore normalcy to the body's energy balance by utilizing a combination of Acupoints located on the twelve meridians. This is accomplished by a variety of means, the needle is just one.
Medical research continues in this country and others to attempt to explain in western scientific terms what the ancient Chinese seventy centuries earlier described. Today, many theories have been postulated as to why Acupuncture is so effective in pain control. However, as more discvories are made, more research is indicated.
How Many Treatments Are Usually Needed?
Obviously the number of treatments vary with different conditions and individuals. Chronic problems generally require more treatment than acute ones. Some patients notice an immediate improvement after the first treatment, whereas others may not notice any effect until the seventh or eighth visit. Its been shown that a certain percentage of patients receive maximum benefit up to three months following a course of therapy.
Patients are urged not to enter an Acupuncture program with the thought of "taking a few" to see what will happen. Even though it is possible to achieve success; a program often visits would have a better chance for success. Patients are encourage to be patient with the healing process. If the treatments are recommended and results occur in just five visits, the doctor may elect to discontinue treatments or continue their use to stabilize the condition.