About Us
Dr. Richard Hilton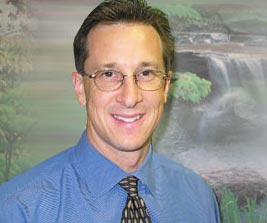 Dr. Richard Hilton grew up on a farm in Morristown, Indiana, where he was taught an excellent work ethic from his parents and family. He was 16 years old when he decided to become a chiropractor. He had a back injury while playing football and the chiropractic care was like magic. He was shocked at how fast it worked. Chiropractic also had many common sense approaches to staying healthy that were very appealing. Dr. Richard Hilton attended Purdue University for his undergraduate studies, before being accepted into Logan College of Chiropractic in St. Louis, Missouri. He graduated in 1988 and did his internship in Sacramento, California for one year. He then moved back to Indiana to start his own practice in New Palestine. Dr. Richard Hilton has treated over 8000 patients since 1989 with professional, honest chiropractic care.
Dr. Richard Hilton and his wife, Judy are the proud parents of Alex and Lance, identical twin boys born in 1995.
Dr. Richard Hilton has continuing education degrees in rehabilitation and is a licensed acupuncturist. He has also had the opportunity to provide chiropractic care to the Eagles, Aerosmith, Eddie Money, Aaron Lewis, and the Stone Temple Pilots.
Dr. Brian Jennings
A native of New Palestine, Dr. Brian Jennings graduated from New Palestine High School in 2004, achieving high academic honors. A multi-sport athlete, Dr. Jennings was all-state in wrestling and soccer and learned early the power and importance of Chiropractic care for optimum function and physical performance. Dr. Jennings completed his Bachelor's Degree, graduating Cum Laude, in Human Biology at the University of Indianapolis in 2008.
Dr. Jennings earned his doctorate degree from Logan College of Chiropractic in St. Louis in 2012 and started working at New Palestine Chiropractic in January of 2013. Back in his hometown Dr. Jennings has enjoyed working, educating, and treating residents of New Palestine and the surrounding community.
Bev
Bev has been our Office Manager/Chiropractic Assistant since Dr. Hilton started his practice in 1989. She has been a wonderful, dedicated member of our staff.
There is not a week that goes by that someone is telling Dr. Hilton how helpful Bev has been for them. Understanding your insurance coverage can be a difficult task, and Bev will help you every step of the way. She has worked for chiropractors since high school in Massachusetts.
Allison
In 2013 we welcomed Allison as our chiropractic assistant/receptionist. She worked for us during her high school years, during which our patients loved her. We are lucky to have her on staff.
Allie has always enjoyed working with patients and is a great asset to the office. She assists the doctors, helps the patients with any questions they may have and is more than willing to go out of her way to make your chiropractic experience a pleasant one.
David Graston
David, a pioneer in the Instrument Assisted Soft Tissue Mobilization (IASTM) industry, has created the SASTM method for treating soft tissue injuries. He originally developed tools to assist in his own recovery from an injury. David continues to work with medical doctors, chiropractors, therapists, professional athletes and athletic trainers from around the world who have experienced significant inprovements in range of motion, decrease in pain, and increase in flexibilty as a result of the use of SASTM method and instruments. Treatments are now offered by David at Hilton Chiropractic.
Marge
A Massage Therapist with over 15 years experience, Marge graduated from the Alexandria School of Scientific Theraputics in June 2000 with over 500 certified hours. She specializes in Pfrimmer Deep Muscle Therapy and Swedish massage therapy. Massage times available Monday, Tuesday and Thursday by appointment.